Now that's some hot cardboard ... World's Hottest Peppers get their own Topps baseball card tributes
This entry was posted on August 9, 2018 by BlowoutBuzz.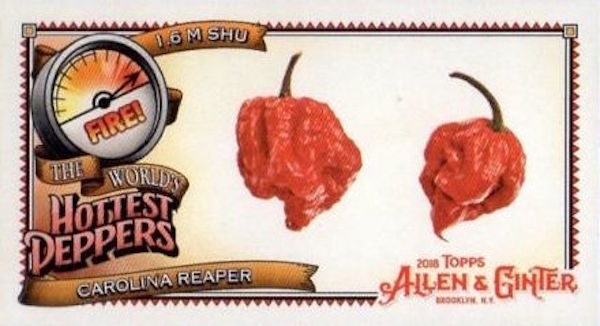 One of the unusual inclusions in packs of Topps Allen & Ginter baseball cards this year is the 15-card The World's Hottest Peppers set, which is precisely what it's name indicates.
The Carolina Reaper you see here? It's apparently a modern-day Babe Ruth of heat, a Slambino of the Stomach  with its Scoville Heat Units mark at 1.6 million according to its card. But that's just its average score -- apparently it can reach a world-record high of 2.2 million and it broke its own record. Meanwhile, another pepper in the set reportedly tops it but hasn't been recognized by Guiness World Records just yet. (What does really it all mean? Buzz is no expert -- I don't dare go beyond some spicy barbecue sauce -- but "pain" simply comes to mind first.)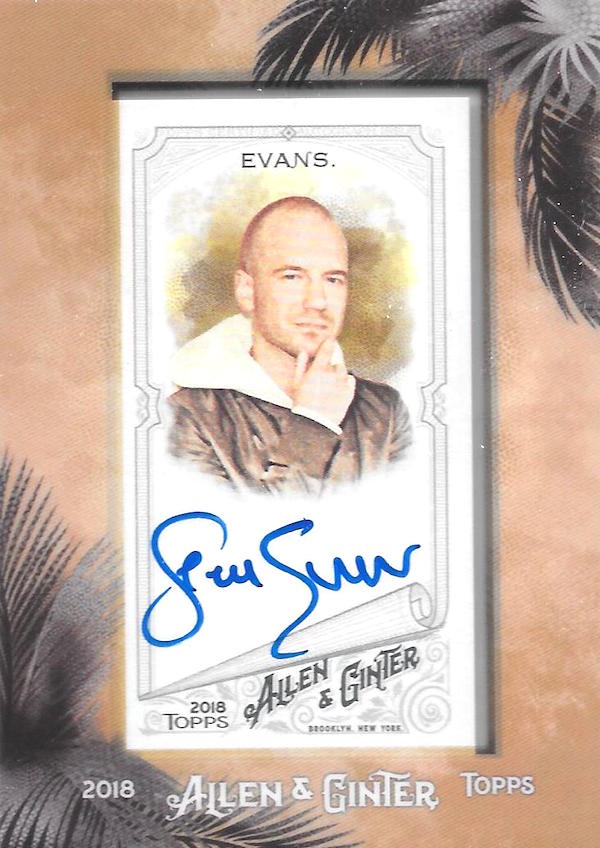 The pepper cards, which can all be seen in a gallery below, aren't the easiest pulls at one in every 50 packs or so in boxes of Ginter, but they're not alone as something to feed the foodies out there in this year's set.
Keeping with the brand's culinary collectables that have included tributes to odd foods and appearances from Anthony Bourdain, Marc Forgione, Jeff Mauro, Guy Fieri and Daniel Boulud to name a few from the past, this year the peppers also joined by cards and autographs from Sean Evans, the host of Hot Ones, an interview series on YouTube. In that one, guests take on progressively hotter wings as they field scorching questions. You can check out an episode below.
Here's the rundown of the peppers if you want to collect 'em all ...
2018 Topps Allen & Ginter The World's Hottest Peppers 
WHP-1 -- Pepper X
WHP-2 -- Carolina Reaper
WHP-3 -- Trinidad Moruga Scorpion
WHP-4 -- 7 Pot Douglah
WHP-5 -- Primo
WHP-6 -- Butch T Trinidad Scorpion
WHP-7 -- Naga Viper
WHP-8 -- Ghost Pepper
WHP-9 -- Komodo Dragon
WHP-10 -- Trinidad 7 Pot
WHP-11 -- Infinity Pepper
WHP-12 -- 7 Pot Barrackpore
WHP-13 -- Red Savina Habanero
WHP-14 -- Naga Morich
WHP-15 -- Dorset Naga
Follow Buzz on Twitter @BlowoutBuzz or send email to BlowoutBuzz@blowoutcards.com. 
>> Click here to buy cards on BlowoutCards.com