Sunday Superstars: NFL's Week 13 cardboard icons include Phillip Lindsay, Chase Edmonds, Dante Pettis & more
This entry was posted on December 3, 2018 by BlowoutBuzz.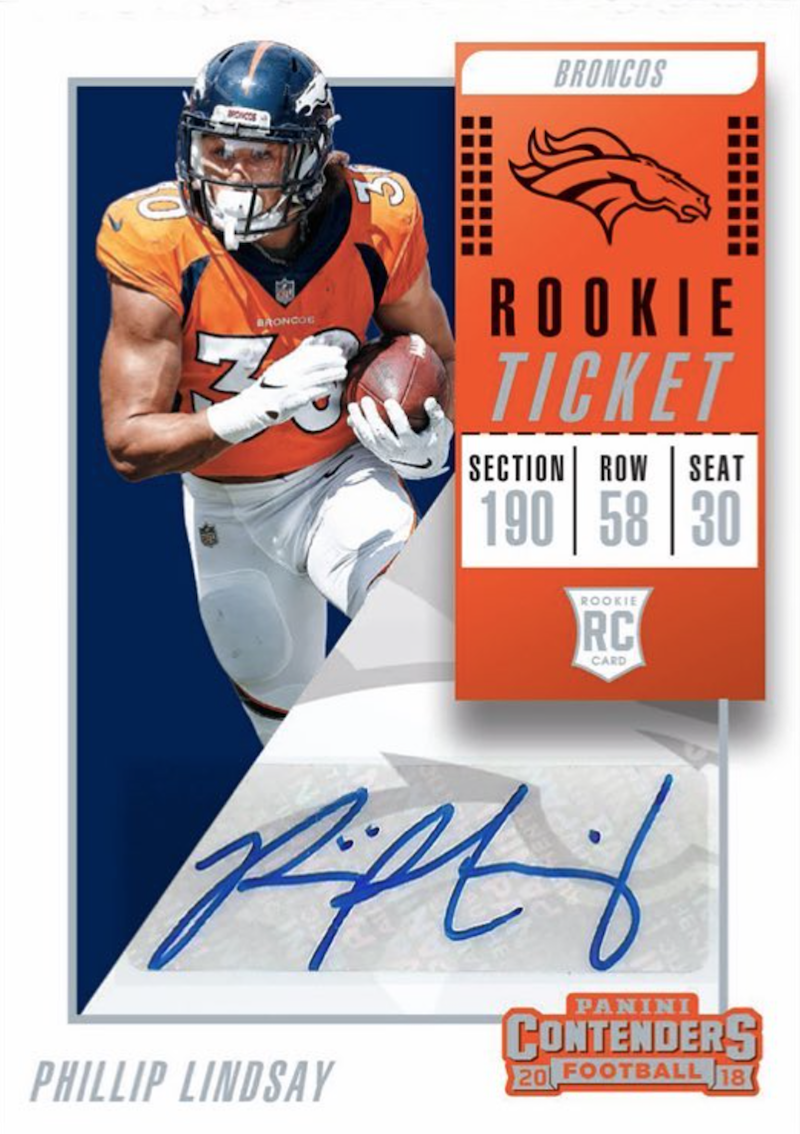 Next week, he'll probably join the 1,000-yard club.
Denver Broncos rookie RB Phillip Lindsay had a day Sunday against the Bengals with 19 carries for 157 yards and two TDs in a 24-10 win. That upped him to 937 rushing yards and eight TDs for the year -- not bad for an undrafted former University of Colorado star. His first Broncos autos are still on the way -- 2018 Panini Contenders is one possible debut that has been teased -- while he has has just 29 autographed cards -- all in his college threads -- found only in Panini America's Elite Draft and Contenders Draft Picks as well as three cards in Leaf Draft. >> Check out his autos on eBay
>> Click here to shop for football boxes on BlowoutCards.com.
Keep reading for more guys who generated some buzz on the field this week.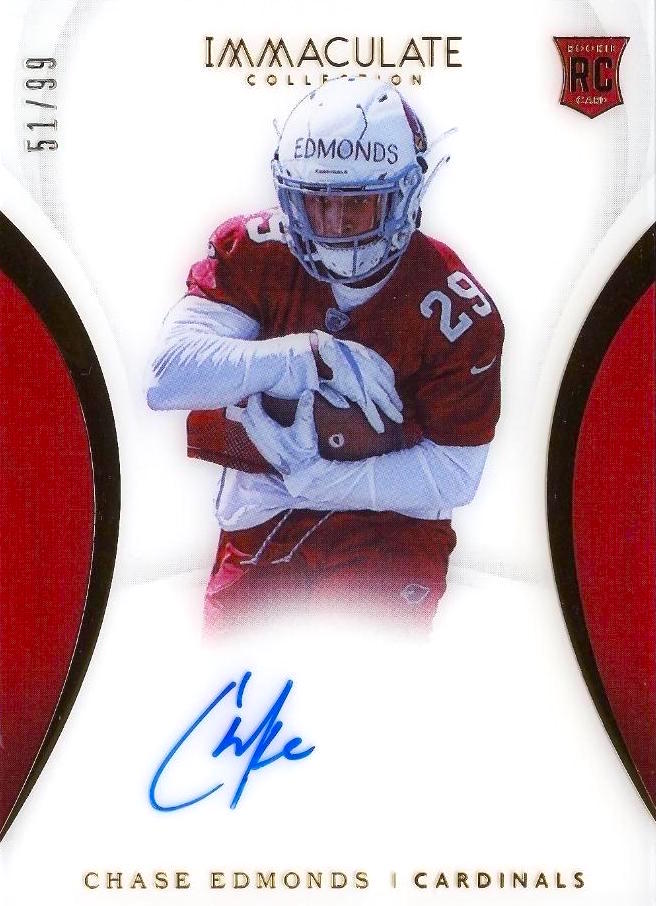 -- Chase Edmonds The Cardinals' rookie RB had just five carries for 53 yards but he got into the end zone for the first two times in his NFL career. The former Fordham star was a fourth-roudn draft pick and he's gotten at least one carry in 12 game this season. His season total isn't flashy --just 138 rushing yards -- but now he'll be noticed. As for cardboard, he has a lot -- nearly 200 different cards -- and nearly half of those are autographs. >> Check out his autos on eBay
---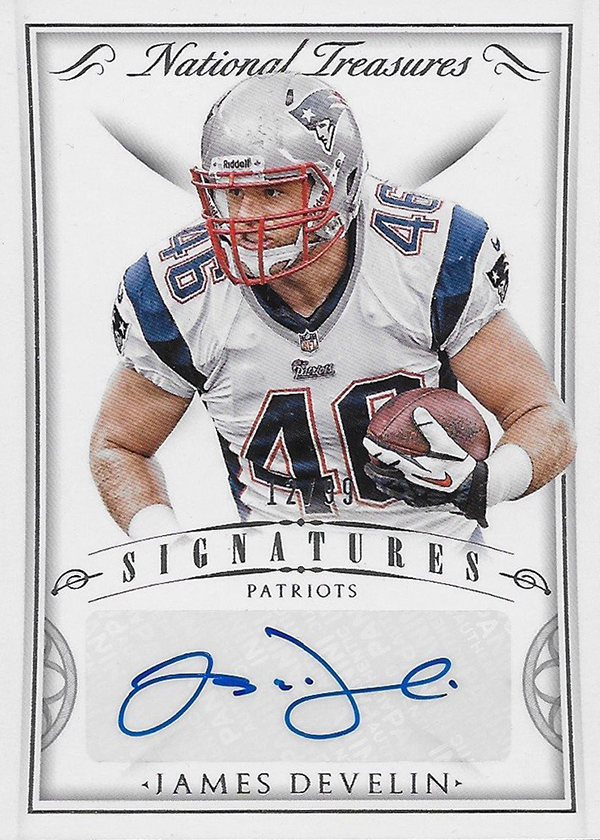 -- James Develin Want another obscure player who made a mark on Sunday? Try This New England Patriots RB who went undrafted out of Brown back in 2010, toiled in the Arena League and has had a modest but steady role for the Patriots since 2012. How modest? Just 28 catches in 77 games and on Sunday he had a career day with four carries for five yards and two touchdowns in a 24-10 win over the Vikings. That's two weeks in a row with a touchdown this season -- last week he did it on his only carry -- and you'll have to find his Rookie Cards and autos. His only ink is in 2015 Panini National Treasures, Donruss Signature Series and Sc0re -- just 14 cards in all.  >> Check out his autos on eBay
---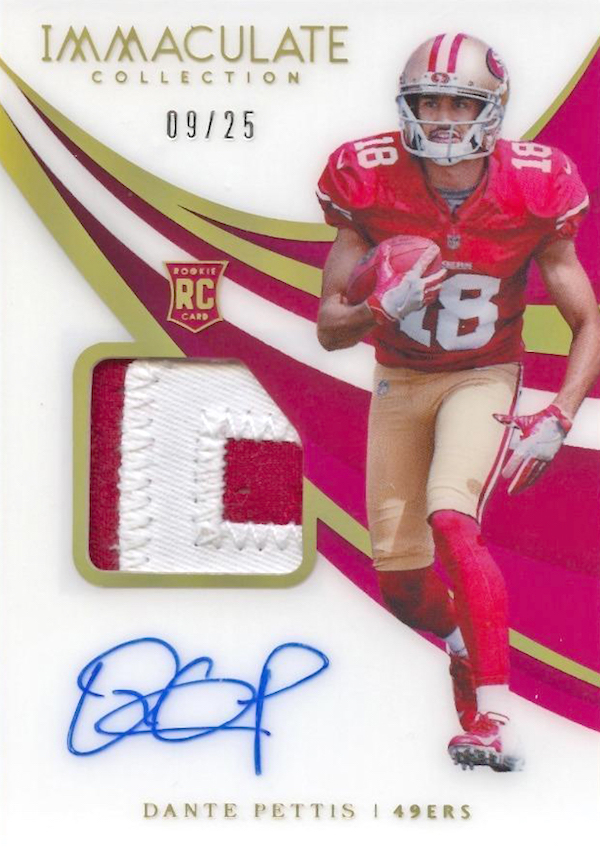 -- Dante Pettis While you should know his new QB by now, it's too easy to pick the guys who have the ball all game long. Instead, this San Francisco 49ers rookie WR gets the call here after a five-catch, 129-yard two-touchdown game against the Seahawks. This the second-round pick's first 100-yard game, though he's had two other string games with more than 60 yards and a score this season. There aren't a ton of highlights for 49ers fans these days on cardboard with their marquee star out, but a game like this one helps. >> Check out his autos on eBay
---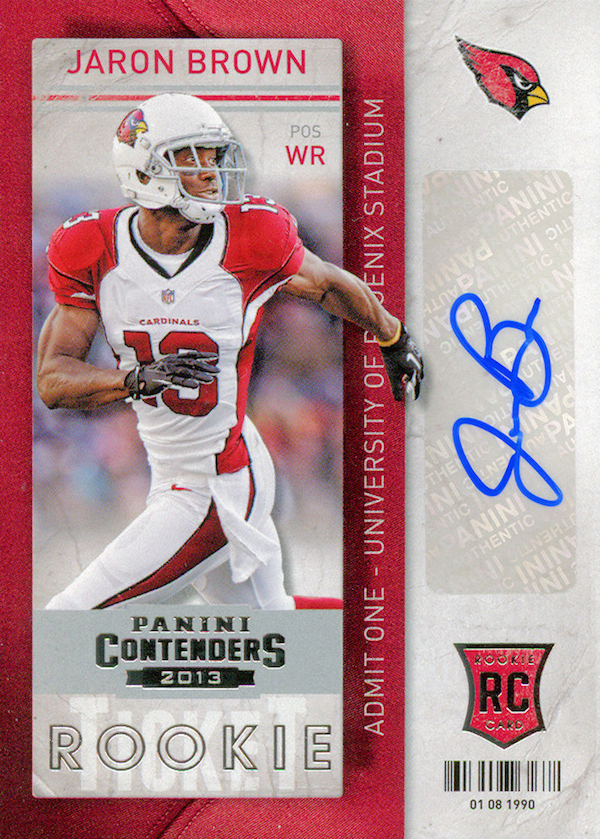 -- Jaron Brown You'll have to turn your attention back to 2013 boxes to find Rookie Cards and first autos of this Seattle Seahawks WR who had just three catches for 67 yards but two touchdowns on Sunday. He's had three one-TD games this season but the yardage is the best of his year. His five TDs are a career-high though his role is definitely not as big this season compared to last year in Arizona. This might be one to watch if you can pick them up dirt-cheap and his ink can be found in a number of releases. >> Check out his autos on eBay
---
-- Need even more Buzz? Patrick Mahomes, Nick Mullens, Josh Allen, Christian McCaffrey, Saquon Barkley, James Conner, Russell Wilson, Derek Carr, Ryan Tannehill, Baker Mayfield, Tom Brady, Travis Kelce, Tarik Cohen, Antonio Brown, Keenan Allen, Todd Gurley
Follow Buzz on Twitter @BlowoutBuzz or send email to BlowoutBuzz@blowoutcards.com. 
>> Click here to shop for football boxes on BlowoutCards.com.