Super Bowl-used confetti? Fanatics has it covered ...
This entry was posted on September 12, 2018 by BlowoutBuzz.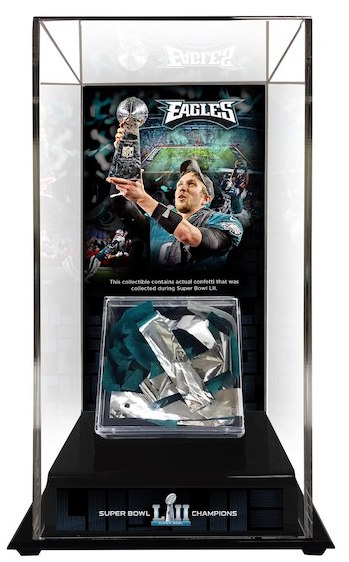 It's something we haven't (yet?) seen in a trading card, but post-game celebration confetti isn't just fodder for random eBay auctions any more. 
With a new NFL season here, Buzz was curious if any new memorabilia or other pieces had popped up yet via Fanatics, which helps bring new game-used, Rookie Premiere-used and autographs to the masses when they're not found in packs of cards.
And that's when I found this unique gem of sorts. It's a 10-inch tall display for the Super Bowl champion Philadelphia Eagles and its the home of a capsule of post-game confetti from Super Bowl LII. It's a $99.99 item ... and it's not alone.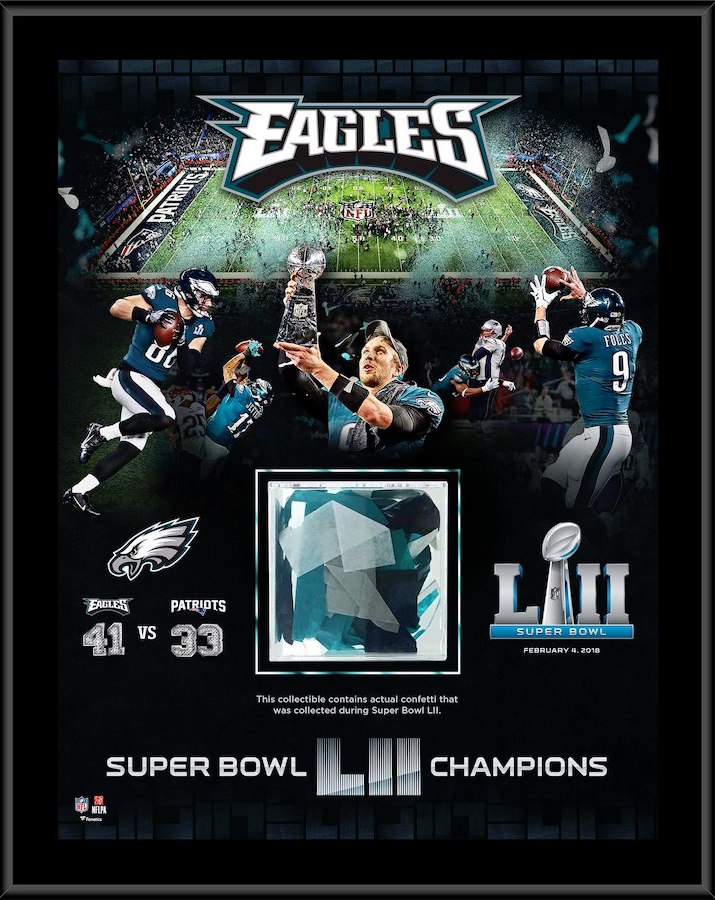 There are two other gamer confetti items up for grabs for the latest champs -- joining that one are a pair of plaques that show montages of player in action from the game. The cheapest is a $79.99 12-by-15 plaque and a limited-edition piece -- a 20-by-24 plaque limited to just 250 copies -- is $199.99.
They're definitely unique, if not downright weird, items -- but at least the shipping is free for those who want a piece of the action in every single way when their team wins it all.
Now, again, the biggest question on my mind ... why haven't we seen confetti make it into a card when we've seen pretty much everything else?
Follow Buzz on Twitter @BlowoutBuzz or send email to BlowoutBuzz@blowoutcards.com.