Topps Now MLB Players Weekend Relics arrive in pack form
This entry was posted on September 13, 2018 by BlowoutBuzz.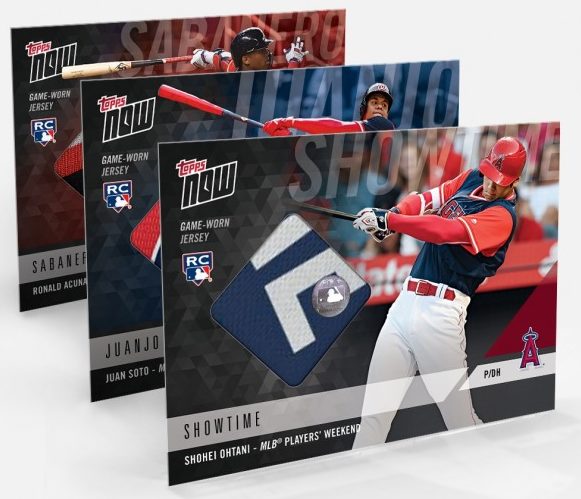 Topps Now fans will have to buy big to complete the latest set.
It's the MLB Players Weekend Relics set and there are 26 different players whose jerseys made the cut in an offering good for just 20 days or until they sell out.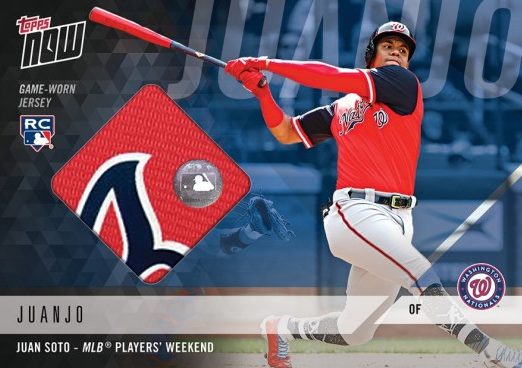 Packs are $50 for one Relic and those who buy 26 packs directly from Topps.com will get one of each player. The challenge atop that? Landing parallels as there will be game-used jersey cards in seven parallel forms each limited and serial-numbered -- 199, 99, 49, 25, 10, 5 and 1/1. The four rarest tiers will all be patch cards in this release.
You can see a teaser of some of the cards in the small gallery below and here's a complete checklist of the players.
2018 Topps Now MLB Players Weekend Relics checklist
Shohei Ohtani - Showtime
Mike Trout - Kiiiid
Jose Altuve - Tuve
Carlos Correa - I Am Groot
Ronald Acuna Jr. - Sabanero Soy
Ozzie Albies - Puchi
Freedie Freeman - Andrew
Javier Baez - El Mago
Wilson Contreras - Willy The Beast
Kyle Schwarber - Schwarbs
Cody Bellinger - Belli
Clayton Kershaw - Kersh
Jose Ramirez - Enriquito
Francisco Lindor - Mr. Smile
Rhys Hoskins - Big Fella
Mookie Betts - Mookie
Andrew Benintendi - Benny
Xander Bogaerts - Bogie
Matt Chapman - Chappy
David Bote - Boat
Luis Severino - Sevy
Gleyber Torres - GT
Miguel Andujar - Papa
Juan Soto - Juanjo
Bryce Harper - Mondo
Max Scherzer - Blue Eye
--
Follow Buzz on Twitter @BlowoutBuzz or send email to BlowoutBuzz@blowoutcards.com.